Essieux Bourgogne, axle and drivetrain manufacturer

in Auvergne-Rhône-Alpes
In the 50s,
creation of the company by Paul BORNET in the commune of Molinet.
Craft manufacturing of small axles in a 300 m² workshop, intended for carts, dumpers, water bowsers and chariots for a local market.
In October 1967,
takeover of the company by the THOME group, well known at the time in the field of forged and cast steel, shot blasting metal and road axles.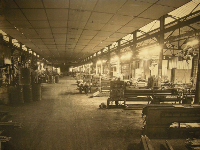 In 1974,
new 8,900 m² building expansion, for the purpose of increasing production and develop the export market.
In the 80s,
investment into digital ordering machines.
In 1991,
creation of an economic interest group with AMB Industries, in St-Germain-des Fossés.
In April 1993,
takeover of the company by Jean ASTIER.
Development of spring suspensions for bogies, tandems or tridems.
In 1999,
change of shareholder, then in 2002 buyback of AMB Industries, a manufacturer of similar equipment.
In 2005,
merger Essieux Bourgogne/AMB and in 2006 restructuring of the company with the intention of consolidating both location by concentrating the production of the large equipment in Molinet and small equipment in St-Germain-des-Fossés.
Late 2007,
expansion and upgrading of the machinery to put in place more rational production lines.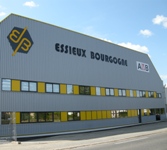 March 17, 2009,
all administrative personnel joins the new offices that make up an integral part of the new 3,000 m² building.
In July 2009,
the first suspension sets come out of the new production lines including:
the assembly of tandems, tridems equipped with two crane bridges (3,200 kg),
two bogie assembly lines each with a crane bridge (2,500 kg),
the assembly of classic half-axles and high capacity sprayers, tag and steered axles, as well as three lines for standard axles per brake size category,
a paint line equipped with a crane bridge (3,200 kg),
a stocking and loading zone, for handling of finished products, secured by a 5 ton bridge over 28 metres with 90 metres of movability.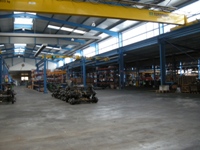 This new organisation represents a covered surface of approximately 10,000 m² at the Molinet location.
At the St-Germain-des-Fossés location, a covered surface of 3,000 m², implementation of a new production line for classic axles, for the assembly of simplified tandems and also a welding line for the rigid beams intended for feed flatbeds, livestock vehicles and irrigation equipment.
September 2015,
commissioning of a new automated paint line for the degreasing and finishing paint according to the clients demands.